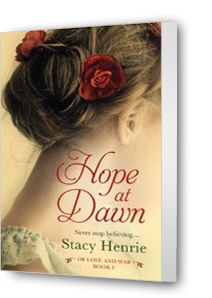 Hope at Dawn
With her brothers away fighting the Great War overseas, Livy Campbell desperately wants to help her family. Her chance comes when she meets a handsome stranger who lands her a job as a teacher in a place far from her parents' farm. But the war casts a long shadow over the German-American town that Livy now calls home-and the darkness will test everything she thought she knew about family and love . . .
More than anything, Friedrick Wagner wants to be part of his adopted country's struggle for peace. But when the bitter animosity between Germans and Americans soon turns citizens against newcomers, friend against friend, he will ... Read More >
Coming Soon From Stacy Henrie
Remember the 100 year annniversary of WWI with Stacy Henrie's
Of Love and War Inspirational Romance Trilogy >
To the Reader
I've always been fascinated with history. As a kid, I enjoyed reading historical fiction, visiting museums, exploring ghost towns and daydreaming about life in bygone eras. Now a days, I have the chance to live out history through the characters of my inspirational historical romances, while enjoying all the modern conveniences of life in the 21st century.
I'm die-hard fan of chocolate and happy endings. When I'm not caring for my three kids or writing, you'll find me reading, digital scrapbooking, looking at home decor magazines or watching movies.
Thanks for visiting my website.
Happy reading,

Where to Find Me
Media Kit
..